peek inside the bag of amika bestie, Gabrielle Rizzo
A marketing guru, copywriter, trend analyst, creative, and Social Media Manager by day, and a freelance content creator by night. We're talking about our girl, Gabrielle Rizzo.
"I obsess over pop culture, art, travel—all human behavior really which influences me to create. Although, I am big enough to admit that I am often inspired by myself too, particularly on days where I have two cups of tea and a three-course meal, each course made of skincare. I take full advantage of days where I can "do the most," like multi-mask, perfect my brows, and consume copious amounts of content, all in the name of Selfcare. But to be serious, I appreciate dewy skin, day #3 hair, and makeup that I can apply with my fingers."
What's your bag of choice at the moment?
My bag at the moment is Chloe's Mini C Bag, which I like to think showcases my precise talent to make an impractical bag…well…le practical, et viola! Ok, but I will be honest, weekdays practically rules and I carry a much larger, very lived-in second-hand Louis Vuitton Epi Noe Bucket Bag—the kind where you reach in for your phone and end up grabbing 3 lipsticks and 2 receipts. But, whenever I get the chance to pair down to desert-island-only necessities, I'm on it—challenge accepted.
Now for the goods, whatcha got in there?!
Right now, my must-haves are: Prada wallet (my lifeline), Byredo Black Saffron Hand Cream, Airpods, Chanel Les Beiges Healthy Glow Powder because it's summer, a pocket mirror, always a lip gloss (Dior 006 Berry here), amika fluxus touchable hairspray, Glossier Boy Brow, a few bobby pins and my keys (not pictured). My phone is always on hand—so that's PKW, gangs all here. And, before you ask, yes all of this fits and I have receipts!!
What's one handbag trick that you always live by?
I *always* keep travel hairspray on me at ALL times. For a number of reasons:
1) In case of in climate weather (obvious);
2) Add a little to a spoolie and brush in your brows (in case you're not always carrying Boy Brow)
3) To fix a run in your tights; and
4) For touch-ups.
Hairspray, the best-kept secret, I swear.
What's your holy grail product you always have with you? Leave a comment below!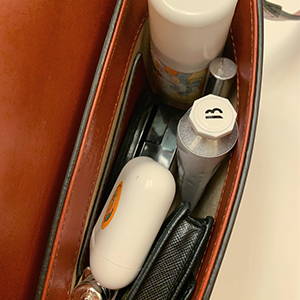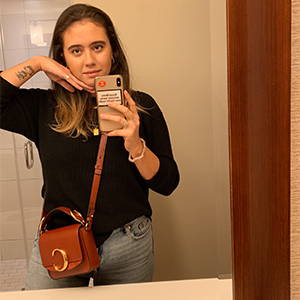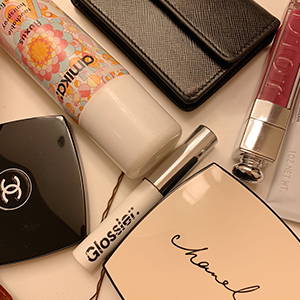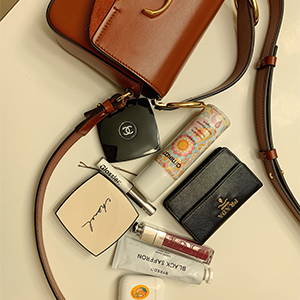 Images via @gabriellerizzo