an interview with amika's sustainability specialist
Happy Earth Day! For those of you who know us, you know that going green is one of the top initiatives here at amika. As consumers ourselves, we've grown more aware of our own impact on the environment, and we see it as our responsibility to make more sustainable choices for the future of our planet. 
That said, amika is pledging to be net zero by 2030 by focusing on packaging, energy, and carbon emissions. To give us more information, today we're chatting with amika's very own Sustainability Specialist, Jamie Richards. So, without further ado, keep reading to learn more about our sustainability journey!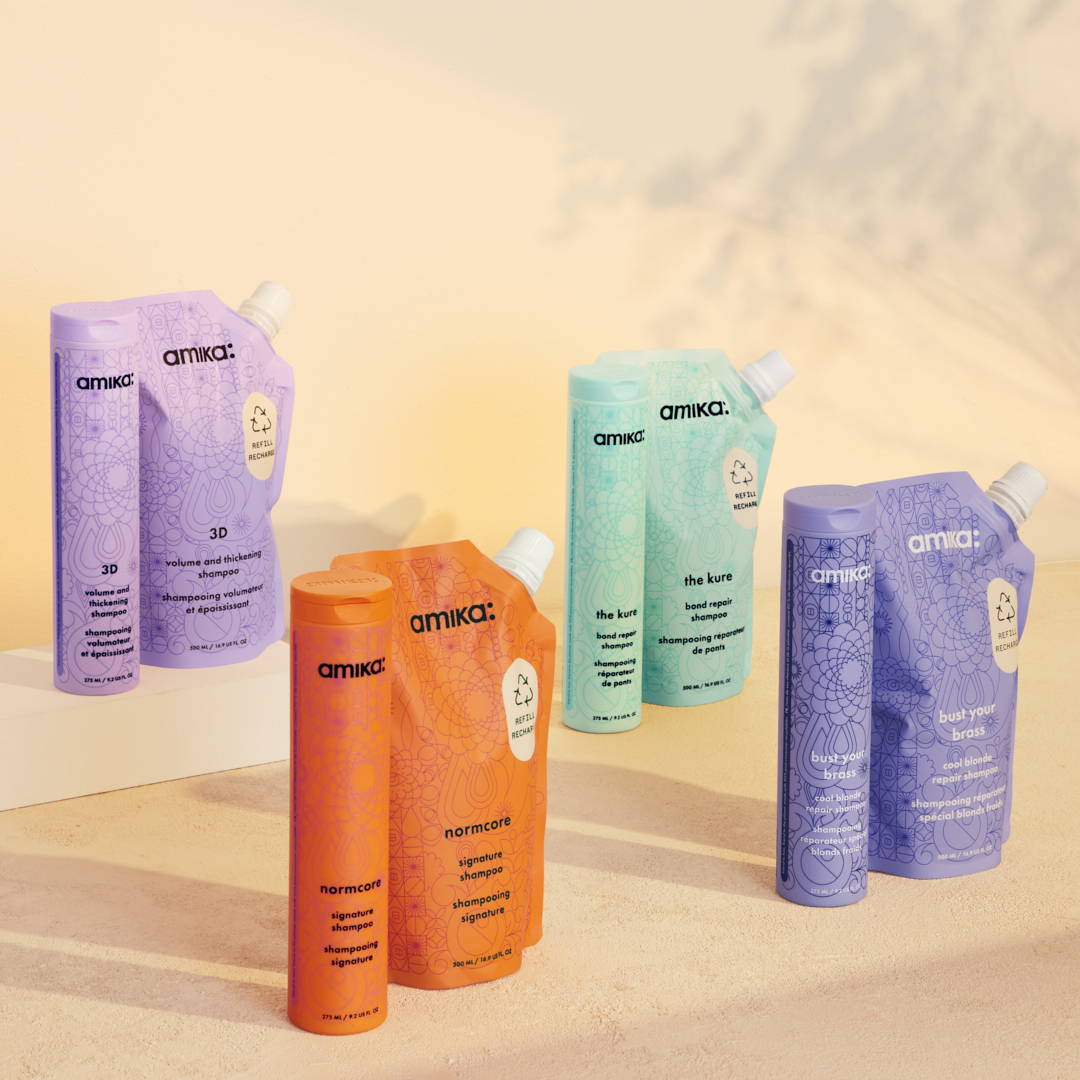 "Hi Everyone! I'm Jamie Richards and I'm the Sustainability Specialist at amika. I work on a range of sustainability initiatives from calculating our carbon footprint, to getting compost in the office. I live and breathe sustainability, so I am super excited to answer some questions on the amazing initiatives that I get to work on with amika!" 
So, amika pledges to be NetZero by 2030. Can you tell us what this means?
"Yes! If a brand is Net Zero, it means that they have achieved a balance between reducing and offsetting emissions. So, we'll reach Net Zero by reducing our emissions to zero where we can and offsetting our emissions where we can't.
Right now, we are Carbon Neutral, certified by Climate Neutral, which means that we have offset everything in our supply chain and operations, and we are currently working on our reduction strategy."
Great! Diving deeper, let's talk about energy and resources. What is amika doing to limit water usage?
"Taking a look at our fill production process this year, we pledge to reduce and reuse water in our supply chain. We've already started to take measures in our Warehouse and Home office to reduce water, like installing low flow toilets. ​ 
Additionally, we offset our water footprint with Watertrust Mill Creek. Mill Creek is a major wetland habitat for migratory birds and salmon in Northern California. It regularly goes dry during summer months, so we're helping The Nature Conservancy to help restore and protect instream flows."  
"We are actively striving to reduce energy usage through our warehouse systems + production processes. In addition to taking necessary energy efficiency measures like installing solar panels covering the roof of our warehouse, we have also installed an improved (and energy-saving!) HVAC system. ​To offset our energy usage, we have partnered with CE bright futures, which helps communities build a clean energy plan."
Moving on to packaging and waste. word on the street is that amika is re-working plastic bottles to use up to 90% post-consumer recycled (otherwise known as PCR) plastics. What does this mean and why is it cool?
"The beauty of PCR plastics, is that it saves up to 65% of the energy it takes to source and produce virgin plastic. This means we're cutting out a whole chunk of the supply chain, which in turn, saves a whole lot of energy and resources (yay!).  
PCR plastics are great for several reasons. In addition to saving energy, PCR plastics help to create a closed loop, or circular economy which is when you continuously reuse the materials in a supply chain over and over again. In theory, this creates a circle, hence circular economy." 
Can you tell us a little about the refill shampoo and conditioner pouches? What makes them so great?
"Sure! We've recently launched refill shampoo and conditioner pouches for the kure, bust your brass, normcore, and 3D. This means that instead of buying a new liter of your favorite amika shampoo, you can buy these pouches to refill your bottles with. The refill pouches have a lower carbon emission footprint by 98.4% when compared to our traditional, virgin plastic bottles."
Can you tell us about Terracycle®?
"Terracycle® eliminates the idea of plastic waste. They recycle the unrecyclable. We partner with them to guarantee that our hard to recycle packaging like pumps and sprays are fully recycled! This now includes aerosols too, which is exciting since aerosols are typically the toughest to recycle. (Note from the brand: learn more about TerraCycle® here!) 
TerraCycle® helps us divert plastic from going to landfills and repurposes it into new bottles, benches... really anything plastic you can think of."  
Last question. How is amika planning on reducing their carbon emissions?
"Of course, there's no one size fits all in reducing carbon emissions. Some actionable ways we are reducing emissions are some of what I've already mentioned above: Re-working our packaging to consist of up to 90% PCR plastics, installing solar panels on the roof of our Warehouse, banning air shipments as a method of transportation for goods, or creating new, innovative designs to promote circularity.  
Additionally, we are partnering with Tribal Renewable Energy Fund to offset what we cannot reduce. They support a variety of energy-related projects on tribal lands -- we are teaming up with the Blackfeet Nation Community Solar Project to help offset an estimated 223,530 kWh/year, which will save 34% of energy!" 
Check out our sustainability initiatives here!