amika is now certified Clean + Planet Positive at Sephora
We're proud to announce that we've graduated from certified Clean at Sephora to certified Clean + Planet Positive at Sephora! As a friend to the planet, it's our job to take action. We understand that we make a large environmental impact—that's why we evaluate EVERYTHING—from packaging to our shipping regulations, our production process to our ingredients. So, what exactly does this all mean? Keep reading to find out!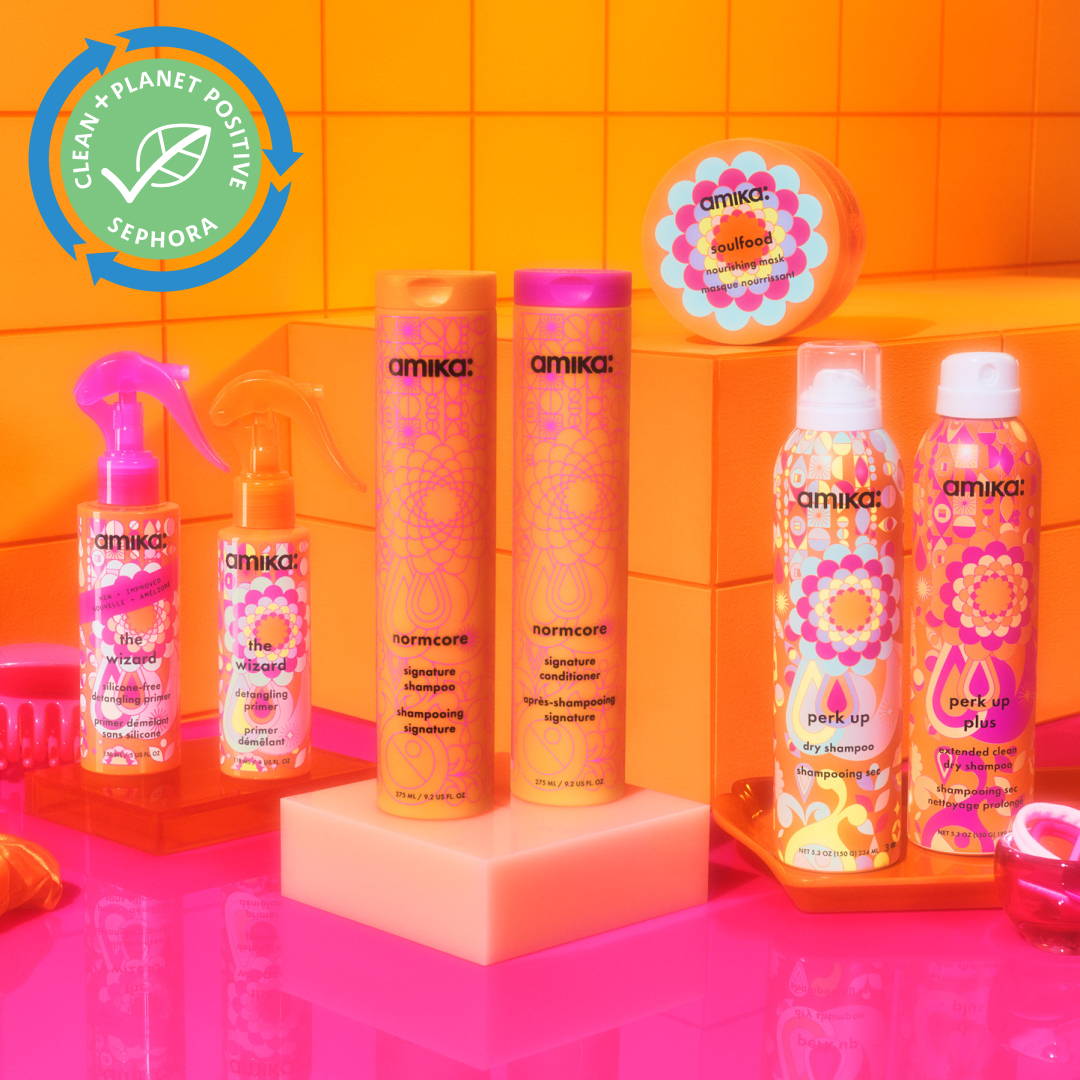 what does it mean to be Clean + Planet Positive at Sephora?
Most of you are probably familiar with brands that are certified Clean at Sephora. This verifies that products sold at Sephora are formulated without parabens, sulfates, SLS and SLES, phthalates, mineral oils, formaldehyde, and more (aka, no nasties!). So, where does the "+ Planet Positive" come in? There is a range of sustainability criteria that a brand needs to meet in order to become Clean + Planet Positive at Sephora: climate commitment, sustainable sourcing, responsible packaging, and environmental giving. Let's get into what each of those mean! 
What it means: Brands must meet at least one of the following climate goals: Carbon-neutral operations, greenhouse gas emissions reduction, or corporate office and owned or leased operations powered by 100% renewable energy. 
How amika achieved this: By offsetting our carbon emissions, we are certified by Climate Neutral.  
What it means: Brand must be cruelty-free, using only sustainably harvested palm oil and mica, no microplastics, and up to Sephora's CBD standards. 
How amika achieved this: We're proudly cruelty-free and use sustainably sourced ingredients, like mica and sea buckthorn.  
What it means: No single-use items or unnecessary materials. Designing with recyclability in mind. Innovating with refillable components, post-consumer recycled content (PCR), biomaterials, FSC-certified paperboard, and more. 
How amika achieved this: We're committed to packaging with a purpose. We created refill pouches for many of our shampoos and conditioners, our products are recyclable—we have a partnership with Terracycle® (read more about that here), and we use up to 90% post-consumer recycled plastic in our packaging.  
What it means: Brand donates at least 1% of profit to a high-impact, long-term giving program that is multi-year and ongoing, or be a certified B-corporation. 
How amika achieved this: We are the only B-Corp certified haircare brand at Sephora. 
why is this important to us?
We've always been kind and clean, but now we've taken our Sephora offering one step further. Being certified Clean + Planet Positive at Sephora means that we're following one of the highest standards of clean beauty. After all, we pride ourselves on being a friend to hair, the planet and YOU.