amika + the planet are friends forever
Happy Earth Month! While we're a firm believer in practicing sustainable responsibility all year round (check out our roadmap here), we can't think of a better way to kick off April than with the launch of our refillable bottles. Introducing, forever friend refillable bottles! Like a good friend that lasts forever, these bottles are sticking around…some might say…forever. Keep reading to learn more!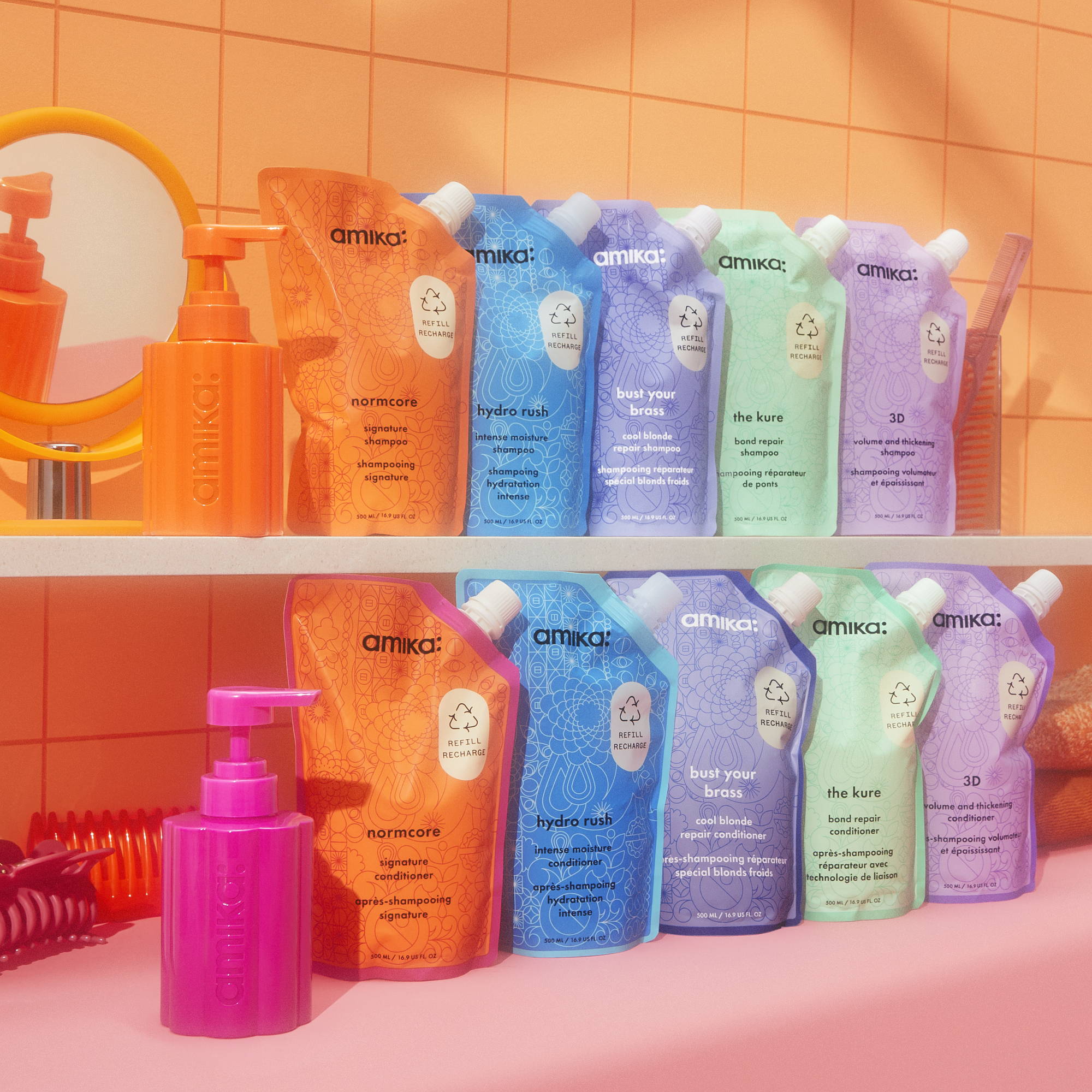 introducing: forever friend refillable bottles
What they are: NEW refillable, reusable shampoo and conditioner bottles that are made with BPA-free and EA-free Eastman Tritan ™ plastic that helps reduce* environmental impact over time. They're dishwasher safe, compact enough to fit in your shower, and are impact-resistant—no worries if you drop them in the shower, they're sticking around forever. 
How they're a friend to the planet: ​After using the forever friend bottle for 1 year, your environmental impact* is reduced by 69% compared to 2 PCR (post-consumer recycled plastic) bottles—our standard bottles.
*generated from Sustainable Minds software. 
How to use: Unscrew the top, then pour in your favorite amika shampoo or conditioner with our sustainable refill pouches! Using these together reduces environmental impact by 98% over the course of two years, compared to 2 PCR bottles.  
refill pouches: now in our hydro rush shampoo + conditioner
Allow us to remind you about our refill pouches.  
What they are: Refill pouches of our bestselling shampoos + conditioners—now in our most recent launch, hydro rush! 
How they're a friend to the planet: our sustainable pouches lower carbon emissions by 98.4%* when compared to traditional, virgin plastic bottles.  
How to use: Just unscrew the top and pour into your empties!​ If you don't have a shampoo or conditioner bottle to refill, don't worry! You can also use these pouches on their own or pair them with our new forever friend refillable bottles.  
Once your pouch is empty, we encourage you to recycle through our TerraCycle® program! Learn more here.