detox collection spotlight: how to achieve a happy + healthy scalp
Here at amika, we are a friend to all. A friend to hair, hairstylists, to her, him, you and them. We create products to solve your hair concerns. Our assortment includes 10 collections that cater to every type of hair – no matter ethnicity, age or gender. To help you get to know our products a little better, we are starting a series on The Strand where we highlight a selection of our 10 collections- who they are for, how to fit these products into your routine, and what results you can expect. We're hoping to shed a little more light on how to pick products that best suit your hair type. But don't forget, never be afraid to mix and match collections for your specific needs and concerns! All right, here we go! 
who is this collection for?
Are you a dry shampoo fiend? Does your hair tend to get oily just from a single touch? Do you have very fine hair? Do you struggle with your hair actually feeling clean? Look no further than our detox collection. Everything in this collection will help cleanse, purify, and balance natural oils without stripping hair of needed moisture.
what are some main ingredients in this collection + what makes them great?
100% natural charcoal + pink clay - absorb dirt, oil + toxins that collect on the hair + scalp + helps to rid hair of impurities + odors 
Indian cress stem extract - enriches hair with vitamins and antioxidants to promote oxygen flow for a balanced, healthy scalp 
Cooling menthol - invigorates the scalp with a clean, tingling sensation 
Rice, tapioca and corn starch – absorb dirt and oil and product build-up at the scalp. 
Sea Salt – contains a number of essential minerals and trace elements such as magnesium and calcium 
Salicylic Acid – gently exfoliates the scalp 
Pink Clay & Charcoal – both known for their ability to absorb dirt, odors, minerals, hard metals, toxins, and other harmful substances that can collect on our hair and skin through pollution or hard water + remove unpleasant odors while exfoliating dead skin cells 
Sunflower Oil – breaks down oil-soluble dirt and grime 
Sea Buckthorn Oil – adds back the scalp's most needed moisture and antioxidants 
what products are in this collection + how do you add them into your routine?
"My name is Becca and I'm the community manager here at amika. If you read The Strand often, you may also notice my name from the bottom of these articles! I have something called alopecia areata, an autoimmune disease that causes my hair to fall out. You can read more about my story here.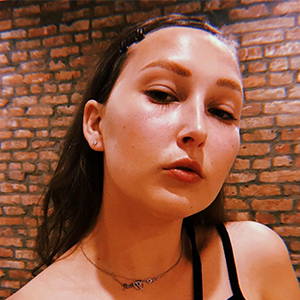 Because my hair is so fine, I'm a die-hard detox collection fan. I use the reset clarifying gel shampoo every time I wash my hair to break up build up from previous days of dry shampoo and any root cover I use to hide my spots. My hair also tends to get oily much quicker these days. If I've gone longer than usual without washing my hair, I will use the reset pink charcoal scalp cleansing oil before shampooing and conditioning to act as a double cleanse. This basically just ensures that all build up is cleansed and removed. 
I've found that using a microfiber towel has really helped with the integrity of my hair. It also helps immensely with frizz. Once out of the shower, I flip my head over and use this microfiber hair towel.  
Once most of the moisture has been absorbed into the towel, I like to add some more moisture back into the ends of my hair. My go to is the wizard detangling primer, but I also love the vault color-lock leave-in conditioner. I focus whatever leave-in I'm using at the very ends and then always make sure to detangle with a fine-tooth comb, starting at the ends and working my way to the crown. This is how I avoid fall out and stressing my hair too much. 
Between washes, I'm a perk up dry shampoo fanatic. It allows me to go further in between washes, which is insanely important for me. I also have light brown hair, and it never gives me a white cast." 
 We only make products that make us proud. We create highly effective haircare that has always been certified cruelty-free, formulated without sulfates, parabens, aluminum starch and over 1,300 questionable ingredients banned by the European Union.  
Have any questions regarding your specific hair type? Make sure to check out ACE, our personalized hair quiz on loveamika.com that will give you the run-down on what products to use for your specific hair type, hair concerns, and lifestyle. 
By Becca King, community manager