ingredient spotlight; Redensyl™
Turning down the volume a bit when it comes to the television or the music coming out of your headphones might be ideal, but we always say turn it up when it comes to the volume of your hair. Not only does dialing it up at the root make for great hair days, but it's also guaranteed to boost your self-confidence a few notches. While extra hair oomph is great, it can sometimes seem impossible due to thinning or excessive shedding. That's why we've not only created an entire collection dedicated to the uplift of your hair (hello volume collection!), but we've also infused our shampoo, conditioner, and NEW thicc volumizing base with Redensyl™, a signature ingredient from cosmetic manufacturer, Givaudan, to ensure thickness and plump-ness.
Redensyl™ is a key cosmetic ingredient made up of plant extracts that's been identified within the haircare industry as one of the newest breakthroughs against hair loss. Dihydroquercetin-glucoside (or DHGQ) is the compound found within Redensyl™ that targets stem cells found in hair follicles while encouraging division of the cells, also known as the anagen phase or "growth phase". Which means you keep in anagen phase longer and deters the catagen and telogen phases for longer. The catagen stage is the end of active hair growth, while the telogen phase is when the hair actually sheds, according to VeryWellHealth. Other natural hair growth ingredients such as anti-inflammatories and amino acids can also be found in this super ingredient.
Redensyl™ works by targeting the outer root sheath cells, or ORSCs, better known as hair follicle stem cells. These stem cells are super important when it comes to hair growth because they initiate the anagen (or growing) phase of the hair cycle. The DHQG found in Redensyl™ activates division of the ORSCs, meaning more hair regeneration and growth for your strands while also discouraging activation of the telogen (or shedding) phase of the hair cycle.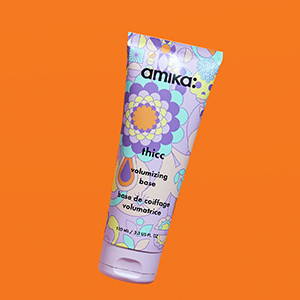 So BASICALLY; more hair growth, less shedding, and instant lift – these are just some of the awesome benefits you'll get from using the volume collection and our newest product, thicc volumizing base, thanks to its healthy infusion of Redensyl™. Here's how:
Start with the

3D volume and thickening shampoo and

conditioner

– both weightless wonders infused with Redensyl™, hydrolyzed rice, and vegetable proteins to add thickness, as well as moisture and volume, while ensuring strands remain manageable.
While hair is still damp, apply the thicc volumizing base evenly from root to tip. The lightweight, concentrated formula immediately plumps fine to thin hair creating massive volume with a matte-satin finish. We suggest applying to damp hair and blow drying after for best results.
Spritz on the brooklyn bombshell blowout spray before blow drying. This lightweight mist with Glycerin, Octylacrylamide, and ProVitamin B5 adds moisture+ strength while smoothing + protecting against breakage. This product will give you lift while also setting hair.
Use the plus size perfect body mousse on hair to provide movable, flexible hold and prevent hair from frizzing in humid weather conditions.
Keep the hair volume party rolling throughout the week with a few puffs of the

vandal volume powder spray

. Just apply to directly to roots and tousle for an instant hit of matte volume with just the right hint of grit.
By Andrea Arterbery, The Strand Contributor