the NEW wizard silicone-free detangling primer
Our bestselling wizard detangling primer now has a partner in protection! We created a new version of the wizard detangling primer—this one is silicone-free and infused with squalane.  
Why silicone-free? We know silicones are not in everyone's hair routine, and our goal is always to be a friend to all, so you can find products that suit you. So, whether you're a fan of silicones or not, we have the magic!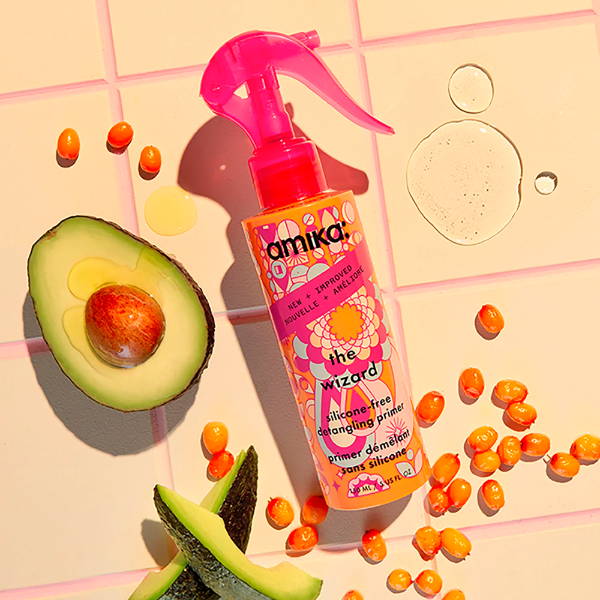 Let's start from the beginning. What exactly are silicones? "Silicones are a family of chemicals that are used in all types of cosmetics...[a]lthough they contribute to great attributes, they are often the subject of scrutiny due to incompatibility with certain hair types/routines, as well as their environmental effects," says Meredith Spencer, amika's Regulatory + Compliance Manager.  Silicones and hair products certainly have a complicated relationship, and (as with everything) and it really boils down to your hair type and your preference.  
silicones' effect on hair
We chatted with Meredith a bit more about silicones' actual effect on hair."For haircare, they're beneficial in helping to give shine, smoothness, better manageability and even creating a protective barrier over the hair." However, if you have low porosity hair that has difficulty absorbing moisture, we recommend staying away from silicones, or using them sparingly. "Depending on the type of silicone, they can be water-soluble or insoluble—the prior getting a bad rep for causing buildup and needing a heavy wash to remove," Meredith explained. "That being said, they're safe for use and depending on the person, silicones could be your hair holy grail." Whether silicones work for your hair type and routine or not, we've got you covered.  
more about the wizard silicone-free detangling primer
Just like our original wizard detangling primer, this new wizard reduces frizz, cuts down on blow dry time, protects against 450°F heat, and detangles all hair types. Just evenly mist throughout damp hair before detangling and blow drying, or mist through damp hair then style as usual…it's like magic!  
Which wizard do you prefer? Let us know if the comments!