Christopher John Rogers fashion show: come backstage with amika
photo: @aaronweiss
Two years after his last IRL show, Christopher John Rogers returned to the runway in Brooklyn, New York with Collection 10. If you're wondering where you've heard his name before, the 28-year-old fashion mogul is known for his creative use of color and pattern in his iconic clothing designs. Rogers was quoted saying "colors and prints help you lean into yourself and be happy" and we couldn't agree more. 
Collection 10 was highly anticipated and did not disappoint. Our very own Global Artistic Director, Naaemah LaFond, worked backstage creating '90s-inspired hair looks, and we were lucky enough to get a behind-the-scenes peek. Keep reading for Naeemah's inspiration behind the looks, what products were used, and how to recreate the look yourself.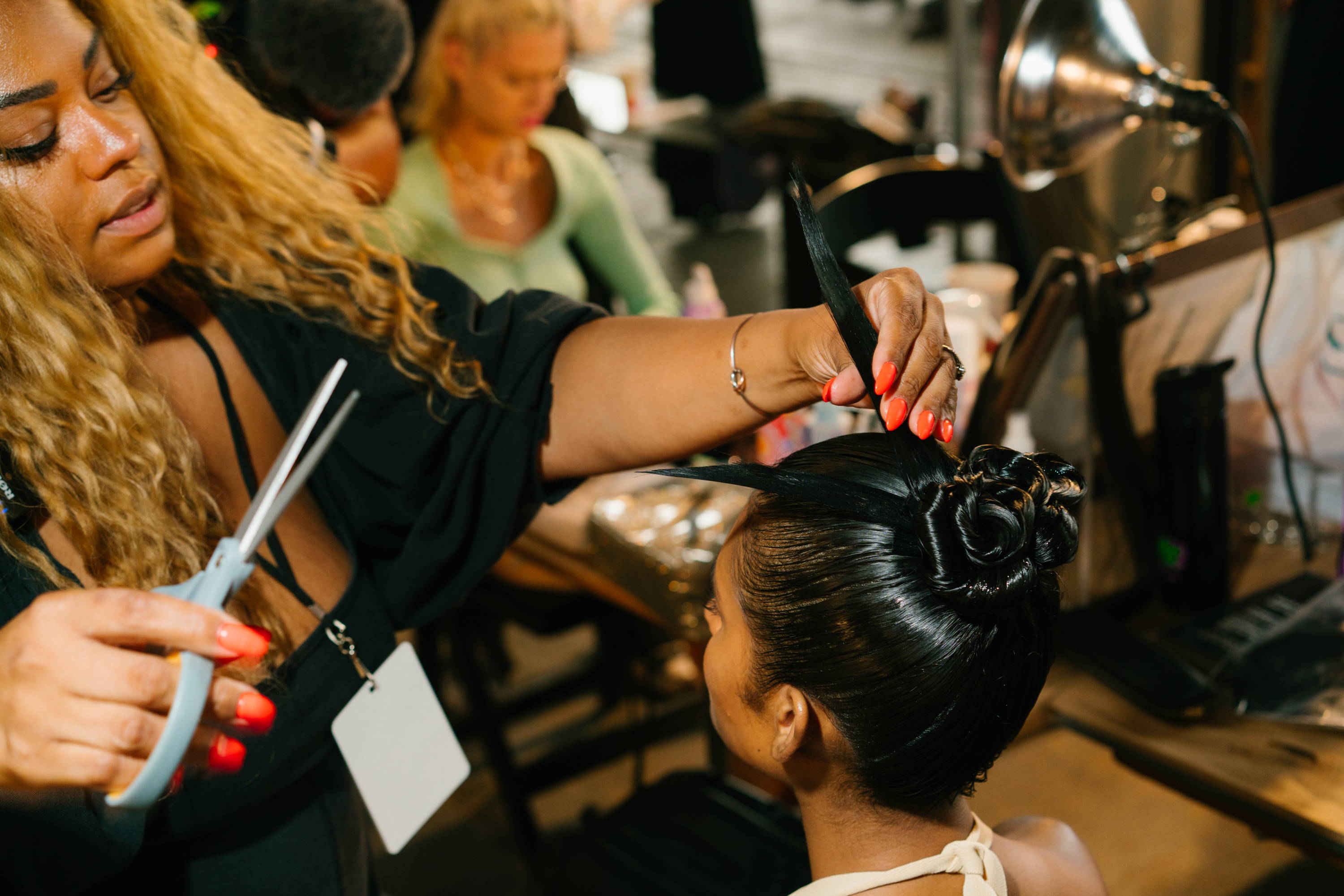 Naeemah LaFond hair look inspiration  
"This season for Christopher John Rogers, I'm tapping into visuals I was inspired by when growing up in Brooklyn in the '90s. This corkscrewed, spiky knot look is achieved using techniques I learned from local black hair salons and black hair magazines. The spiky-firm look was achieved using freeze spray and high heat on extensions to create banana curls and usually accompanied by an elaborate updo. For CJR Collection 010, we've modernized the style with a twisted knot and sculpted spikes with the banana curl technique. Headstrong Intense Hold Hairspray is the hero product for this chic upstyle and helps us to ensure the freeze strong hold. This nostalgic silhouette is sure to be a head turner for the coming season."  
Smooth hair into a high pony with

curl corps enhancing gel

,

using a grooming brush and secure with bungee.

 

Wrap the base with small piece of hair.

 

Pin two spikes onto the base of the ponytail with bobby pins.

 

Separate ponytail into two pieces and saturate with

curl corps enhancing gel

.

 

Twist each piece into the base of the pony in twirling motion and secure with pins.