collection spotlight on color: how to maintain dyed hair
Here at amika, we are a friend to all. A friend to hair, hairstylists, to her, him, you and them. We create products to solve your hair concerns. Our assortment includes 10 collections that cater to every type of hair – no matter ethnicity, age or gender. All hair is welcome. To help you get to know our products a little better, we are starting a series on The Strand where we highlight a selection of our 10 collections- who they are for, how to fit these products into your routine, and what results you can expect. We're hoping to shed a little more light on how to pick products that best suit your hair type. But don't forget, never be afraid to mix and match collections for your specific needs and concerns! All right, here we go!
who is this collection for?
Do you find that it's hard for you to keep the same hair color for long? Do you experiment with hair color often? Have you been dyeing your hair for years? If you can answer yes to any of these questions, THIS is the collection for you. Our color collection will rescue your hair so that you can continue to live your best life with the vibrant color you want, without compromising its health. Colored hair needs a little TLC and maintenance, and that's just what this collection is going to give you.
what are some main ingredients in this collection and what makes them great?
Soybean Oil - an antioxidant that protects against color fading and keeps color vibrant for longer.
Amino Acid Blend - smooths the cuticle and boosts hair elasticity and overall health.
Betaine - rich in humectants, it increases moisture retention and shine.
Antioxidants - hydrate and condition the hair to fight frizz
Red Wine Extract- Rich in tannins which help to protect hair's color, soften and condition.
Cinnamidopropyltrimonium chloride – Preserves the natural and synthetic color of the hair and fight against the sun that can fade color.
what products are in this collection and how do you add them into your routine?
Fadeblock pre-shampoo color seal: The newest addition to the color family! This is a pre-shower step, so make sure you are applying to dry hair. This pre-shampoo works to seal the cuticle and balance the pH of the hair, keeping color vibrant for longer. This product also helps to shield against hard water, saltwater, and chlorine. Apply to dry hair, let it sit for a minute or two, and then rinse.
Vault color-lock shampoo: Shampoos are notoriously known for stripping color, but not this one! Give your shade super staying power with this color-preserving shampoo, filled with UV filters and antioxidants.
Vault color-lock conditioner: The counterpart to our shampoo; this conditioner also contains UV filters and antioxidants to help maintain hair color and bring moisture back.

Flash instant shine mask

: This mask works in just 60 seconds (no lie!) to deliver brilliant moisture and shine. It really is a game changer. This mask instantly seals the cuticle while softening and hydrating the hair for a silky, smooth finish. Amino acids and UV filters keep color vibrant. If you have fine hair, skip conditioning before this step. If you have a thicker hair type, shampoo and condition as usual and follow up with this mask. More on this product and why we love it so much here.
Vault color-lock leave-in conditioner: This is used post-shower and adds even more moisture back into the hair for silky strands. It also has a heat activated complex that restores shine and smoothness to hair, making it look and feel healthy again. Apply to damp hair and style as usual! You can also use this on dry hair, just use sparingly to avoid any greasiness.
Shine squad vault color protecting wash care set: It's your wash care essentials for long lasting color and shine! Containing UV filters and antioxidants, these 3 lil' numbers help protect hair against dulling environmental stressors and keep strands vibrant. Gently cleanse and condition using vault color-lock shampoo and vault color-lock conditioner to keep hair color bright, then follow up with flash instant shine mask to soften mane and boost shine.
To give you a real life example, we asked our Senior Packaging Designer, Morgan Bourdeau, to give a run-down on how she incorporates the color collection into her every day routine.
"Some background on my hair: For about a year I bleached my hair every 6 weeks, with a glaze every 3. Because my hair is super porous, so pigmented shampoos turned my hair purple and weren't as bright as the glazes. I turned to vault hoping it would help protect the glaze color. I have really fine hair and fine the Vault shampoo doesn't weigh down my hair, a true miracle. I love the vault leave in conditioner because its like a sunscreen for my hair! Packed with UV filters, it protects my color from the sun. Flash instant shine mask makes my hair look healthy and refreshed, ad has been my go-to quarantine treatment, especially now that I can't maintain my color at a salon!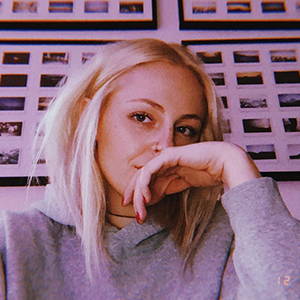 I have two routines: an air dry 'no fuss' routine, and my styled routine. Lemme break it ~down~
How I air dry:
1. use vault color-lock shampoo in the shower
2. use soulfood nourishing mask or kure intense repair mask and let it sit while you do other things in the shower
3. once out of the shower, use vault color-lock leave-in conditioner on damp hair
4. for the ends which need some TLC, I do a little cocktail of
glass action universal elixir, supernova moisture + shine cream, and a new product that's in development (still a secret)
5. finish with a dab of plus size perfect body mousse and un.done matte + volume texture spray
How I style my hair when not in quarantine + actually have somewhere to go:
1. use vault color-lock shampoo in the shower
2. use soulfood nourishing mask as conditioner
3. follow with flash instant shine mask
3. prep damp hair with the wizard detangling primer + the shield anti-humidity spray
4. finish off with a little bit of perk up dry shampoo because I don't like my hair to look too clean"
We only make products that make us proud. We create highly effective haircare that has always been certified cruelty-free, formulated without sulfates, parabens, aluminum starch and over 1,300 questionable ingredients banned by the European Union.
Have any questions regarding your specific hair type? Make sure to check out ACE, our personalized hair quiz on loveamika.com that will give you the run-down on what products to use for your specific hair type, hair concerns, and lifestyle.
By Becca King, community manager