amika goes behind the scenes of the Met Gala 2022
Affectionately referred to as "fashion's biggest night out," the Met Gala 2022 red carpet showcased a plethora of gilded glamour-inspired looks. Not only were the outfits jaw-dropping, but the hair and makeup also created some much-deserved buzz. Here at amika, we had the pleasure of getting a backstage look at two exceptional styles. The first is Camila Mendes' up-do, styled by hairstylist David Stanwell, and the second is Quannah Chasinghorse's sleek 'do, styled by amika Global Artistic Director Naeemah LaFond. Keep reading for the inspo and breakdown of these stunning looks and find out which amika go-to hair oil they both had in common.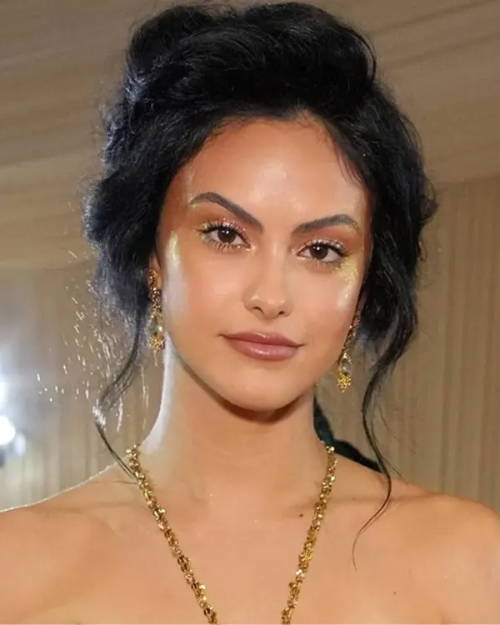 the inspiration behind Camila Mendes' Met Gala hair look
According to stylist David Stanwell, "Camila's look was inspired by gilded glamour, represented with both her hair and makeup. I looked at inspiration dating all the way back to the 1890s but was inspired by a mid-90s Vivienne Westwood Fashion Show – specifically images of Kate Moss – that was a nod to the gilded age with a modern, 90s-grunge twist."  
how to get Camila Mendes' Met Gala hair Look
Feeling inspired? We certainly are! Keep reading for the breakdown so you can recreate this Vivienne Westwood-inspired look at home.  
the inspiration behind Quannah Chasinghorse's Met Gala hair look
Naeemah LaFond styled Quannah's hair in a striking figure 8 braid. "Quannah wanted her hair to be modern that was true to her personal style, as well as her culture, so her look features a sleek style with some intricate braiding. I chose a figure-8 braid because I knew it would make a statement, yet still allow the dress and the jewelry to be center stage." 
how to get Quannah Chasinghorse's Met Gala look
To re-create this sleek, figure-8 braid, follow the steps below!  
There you have it! An amika inside scoop on the Met Gala 2022. Which look was your favorite?