how our influencer coordinator learned to get rid of greasy hair
I have oily hair. Now I know how to take care of it, but when I was in elementary school (aka that age when you don't want your parents to help you in the bath anymore so you're solely responsible for your cleanliness for the first time) I had no idea what to do. As a result of my poor hair care practices, my hair got to a point where other people would comment on how oily it appeared.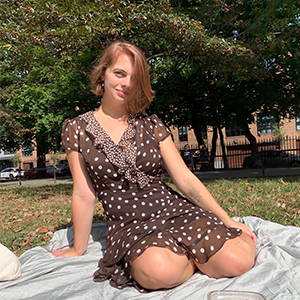 I distinctly remember being home when my mom had her friends over for knitting group (it was called "Stitch and Bitch"...pure genius, my mother Estella) and one of them put her hand on my head to say hello and acknowledge my presence (you know, as adults do to small children). Her face was horrified as she lifted her hand from the puddle of oil on the crown of my head, dripping with my hair's oil. Ew.
From that moment on, I changed my shampooing habits. I would lather, rise, and repeat every single day for years. I used copious amounts of shampoo and would tip my head over in the shower to make sure every single part of my scalp was accounted for and properly cleansed.
Little did I know that this was doing more harm than good… Surprise, surprise: I then had a dry, itchy, flaky scalp, and dandruff haunted my middle school and high school years (and yes, my hair was STILL oily - oh how naive I was). When I was a freshman in college, I then had the bright post-first-heartbreak idea of bleaching my hair (and scalp) platinum blonde. Not only did this further irritate my already unhappy scalp, but my strands became dry like hay as I was completely uneducated on how to properly take care of platinum hair.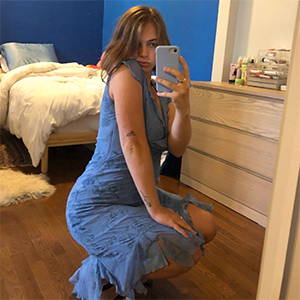 So what causes oily hair, and how do I take care of it (now that I'm back to my natural hair color and have vowed never to bleach it again)?
Oily hair is caused by overactive sebaceous glands. These glands are overproducing sebum, and while sebum is essential to keeping your hair healthy, shiny, strong, smooth and moisturized, too much sebum makes the hair look greasy and if not treated can cause dandruff.
Common causes for oily hair include the following:
Genetics

Unhealthy eating habits

Hormonal changes (puberty or pregnancy, for example) or medication

Change in seasons (anyone else get wicked oily hair in the summer?)

Improper hair care (@ younger me - WASHING YOUR HAIR EVERY DAY DOES NOT MAKE YOUR HAIR LESS OILY!) or type of wash products

Hair type (straight hair is not only the most prone hair type to collecting oil, but it's also the hair type where oil is most visible)
I can attribute my oily hair to most if not all of the causes above. And in the vein of radical honesty, I was still using $3 shampoo from the drugstore when I applied to work at amika. Thankfully, my coworkers and everything I've learned about hair health over the last (almost!) year of working here have shown me the light!! Since using amika wash products exclusively, my hair has never been happier.
Since amika launched our reset clarifying gel shampoo and cooling gel conditioner, it's been my go-to wash duo. The Reset shampoo is a gorgeous gel to foam texture that makes my hair feel clean without it feeling stripped. Unlike other clarifying shampoos I've tried in the past, I don't feel like I have to dump the entire tub of soulfood nourishing mask on my head after - my hair is still moisturized before conditioner.
The reset conditioner cooling gel conditioner is probably our favorite product to date. While I don't do it every wash, I love the feeling of giving myself a scalp massage with the conditioner on the tips of my fingers (and nail extensions), followed by the incredible cooling, tingling feeling that lasts for about ten minutes more after my shower ends. It's like my scalp took a breath mint!
Once a week, before I step into the shower, I'll fully detox my scalp by double cleansing with our reset pink charcoal scalp cleansing oil. Because I still use so much perk up dry shampoo in between wash days (not as much as before reset, mind you), getting all that product build up and letting my scalp breath is so important for both hair growth and oil production. Just use the applicator tip to disperse evenly over your scalp then shampoo and condition as normal! We double cleanse our faces (hi k-beauty!), so why not treat our scalps the same? Scalp is skin too, after all.
In doing this routine, I've discovered that my freshly washed hair once air dried has a gorgeous wavy texture that I never knew existed! I don't use as much dry shampoo, and only have to wash my hair about twice a week now (that's including my weekly "detox"). If you've identified with any of my hair history, check out our detox collection! Your hair (and scalp) will thank you.
By Nina Haines, influencer coordinator