how to use reset shampoo + conditioner for your hair journey
We've been cooking something up over here at amika and we are so excited to finally share it with you! Introducing TWO new additions to our detox collection; reset clarifying gel shampoo + reset cooling gel conditioner! *a slow clap erupts*
So, what exactly makes these new launches special + who are they best for? Keep reading to find out the best way for you to our new reset duo for your hair journey.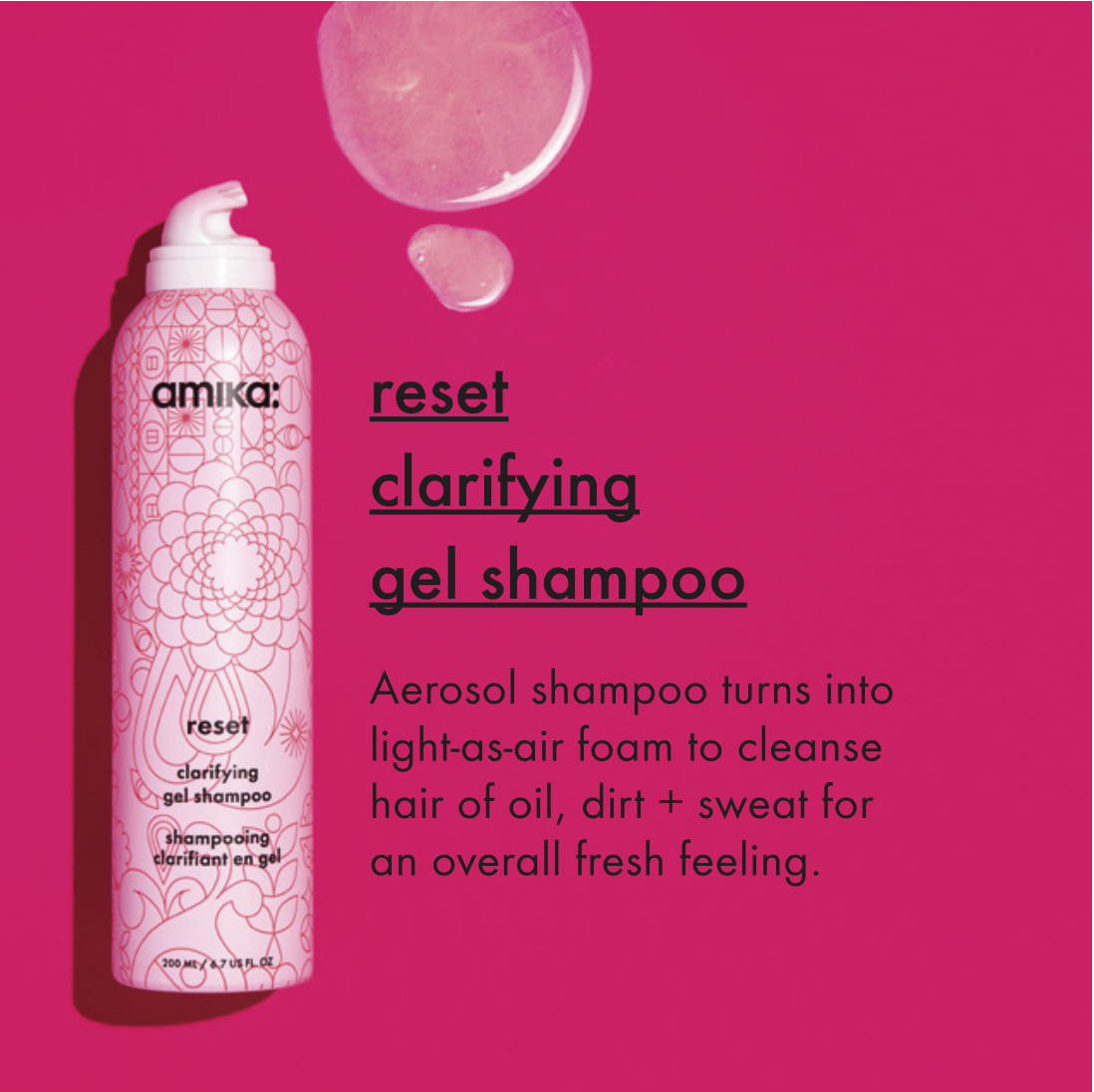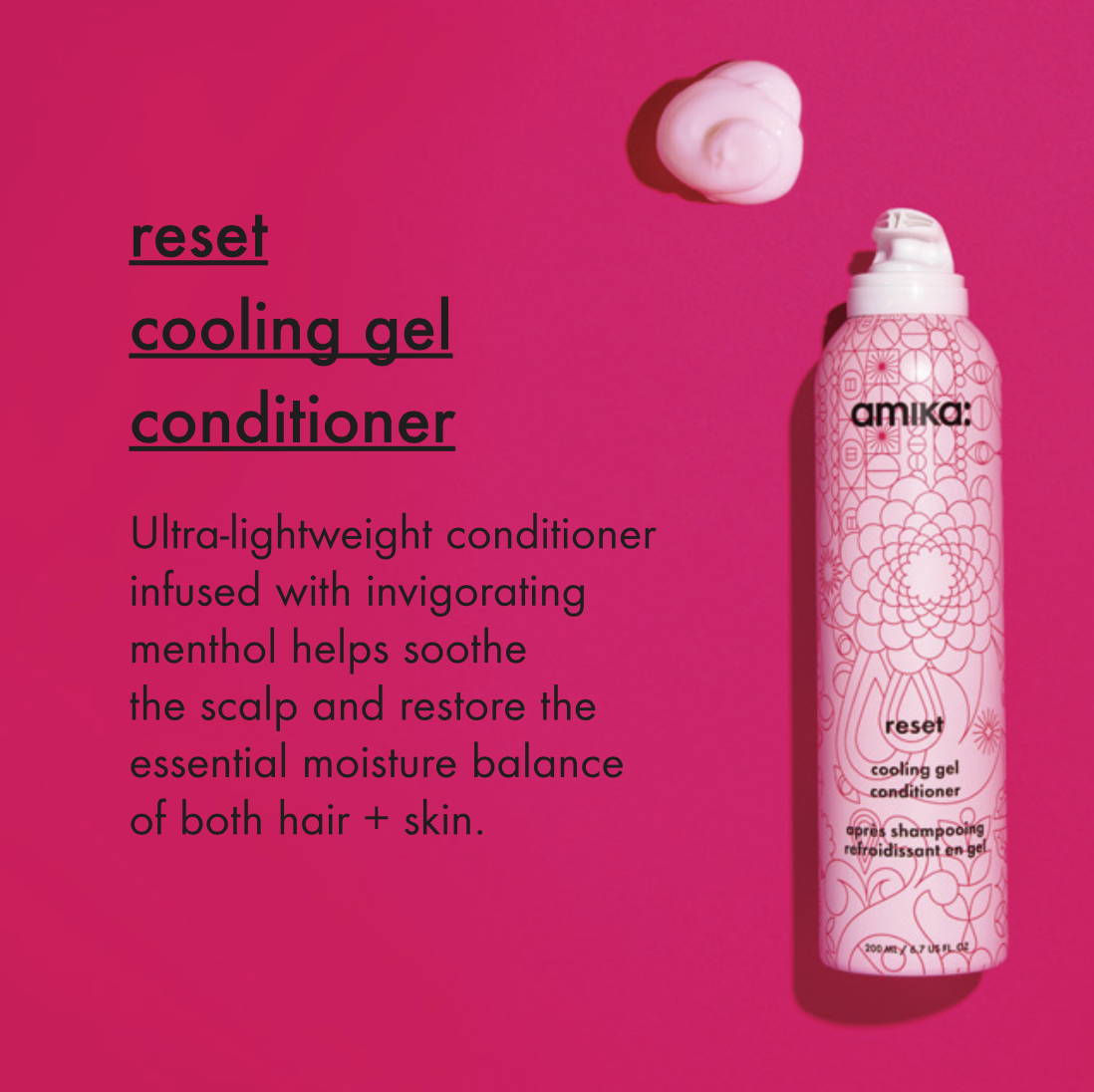 Are you an avid dry shampoo user? Are you using dry shampoo to extend your style for 2,3, sometimes 4 days? This shampoo + conditioner duo is the one for you. Reset clarifying gel shampoo is a unique aerosol shampoo that purges hair of product, oil, dirt and sweat as it replenishes moisture + revives volume. Its oxygen action is like a breath of fresh air for tired scalps. This shampoo containing pink clay and charcoal works to attract dirt like a magnet to draw out impurities and remove product build up. The best part about this duo? You will have that insanely clean feeling without stripping your hair of needed moisture. Throw out everything you thought you knew about clarifying shampoos! For an even deeper clean, try applying reset scalp cleansing oil to dry hair before washing with the reset shampoo + conditioner duo.
Do you find that your hair gets greasy INSANELY fast? Do you feel like you need to wash your hair everyday? Reset shampoo and conditioner is going to be your new bff in your hair routine. Due to ingredients like pink clay + charcoal, you will actually see that after using this duo, your hair doesn't get as greasy as quickly. Pink clay and 100% natural plant derived charcoal are both known for their ability to absorb dirt, odors, minerals, hard metals, toxins, and other harmful substances that can collect on our hair and skin through pollution or hard water. They also rid pores of toxins and unpleasant odors while exfoliating dead skin cells. While we don't recommend washing your hair every day, this duo is so gentle that it can be used every time you wash. Again, breaking those clarifying shampoo stereotypes!
This shampoo + conditioner duo can also be treated like a treatment. Think about it as a face mask session but for your scalp. You can use this duo once a week, let's say on Sunday, to reset, refresh, and get rid of product buildup + oil from the previous week. The best part? The reset cooling gel conditioner with ingredients like menthol lactate and menthol invigorate, refresh, and awaken the scalp with a cool, clean, tingling sensation. Indian cress, which can be found in both products, promotes vitamins, antioxidants and oxygen flow for a balanced, healthy scalp. This duo will give you the perfect base that you need for an amazing hair week.
Have you tried our new reset shampoo + conditioner duo? If so, leave us a comment describing how it feels to use reset!
By Becca King, community manager