meet amika's NEW water sign hydrating hair oil
PSA: amika's newest hydration drop is here! We've added a new ultra-hydrating hero to our lineup. Meet the NEW water sign hydrating hair oil: a silicone-free, potent formula that intensely hydrates, reduces frizz, and heat protects.  
Read more about our newest launch below, then shop water sign here! Hydrated hair is in your future.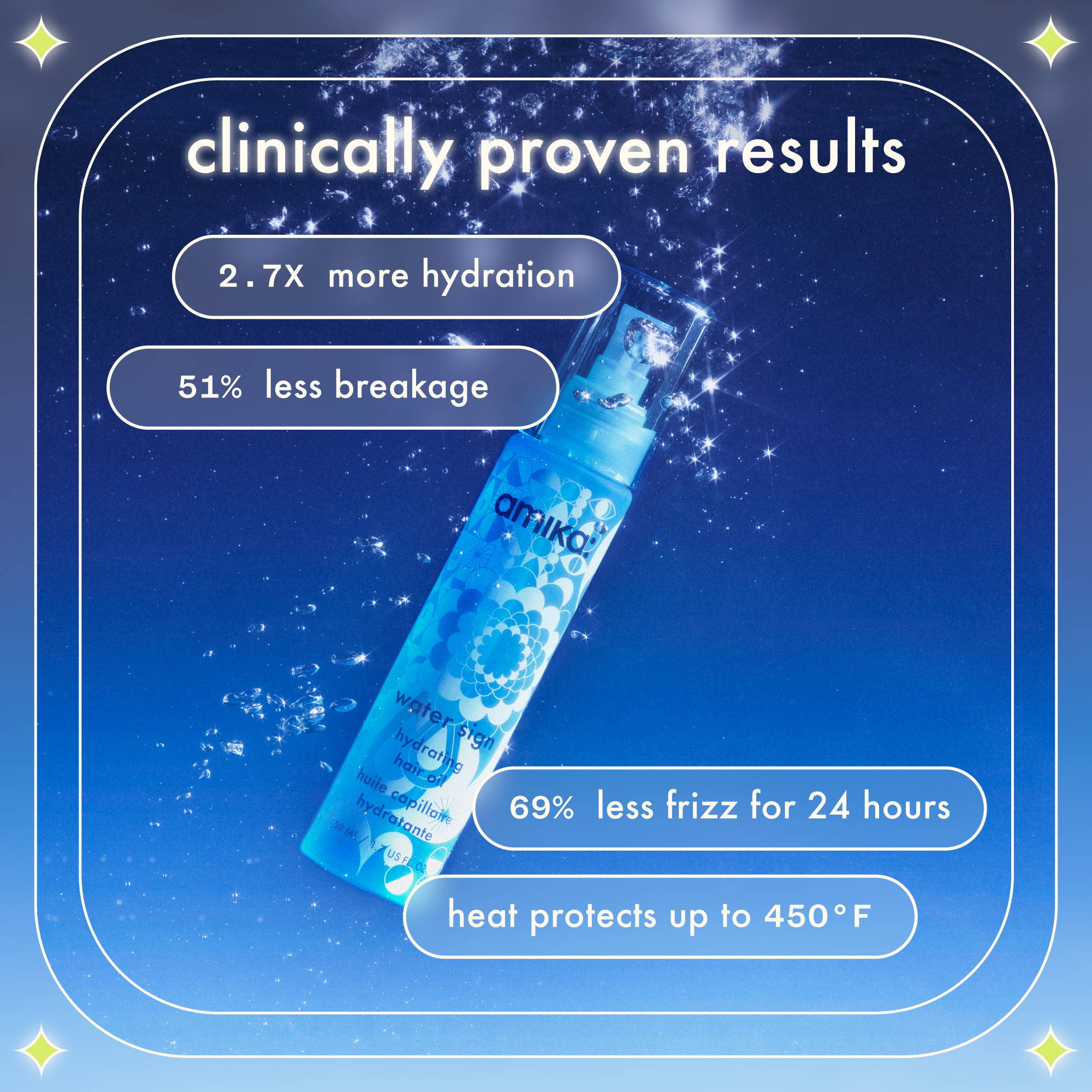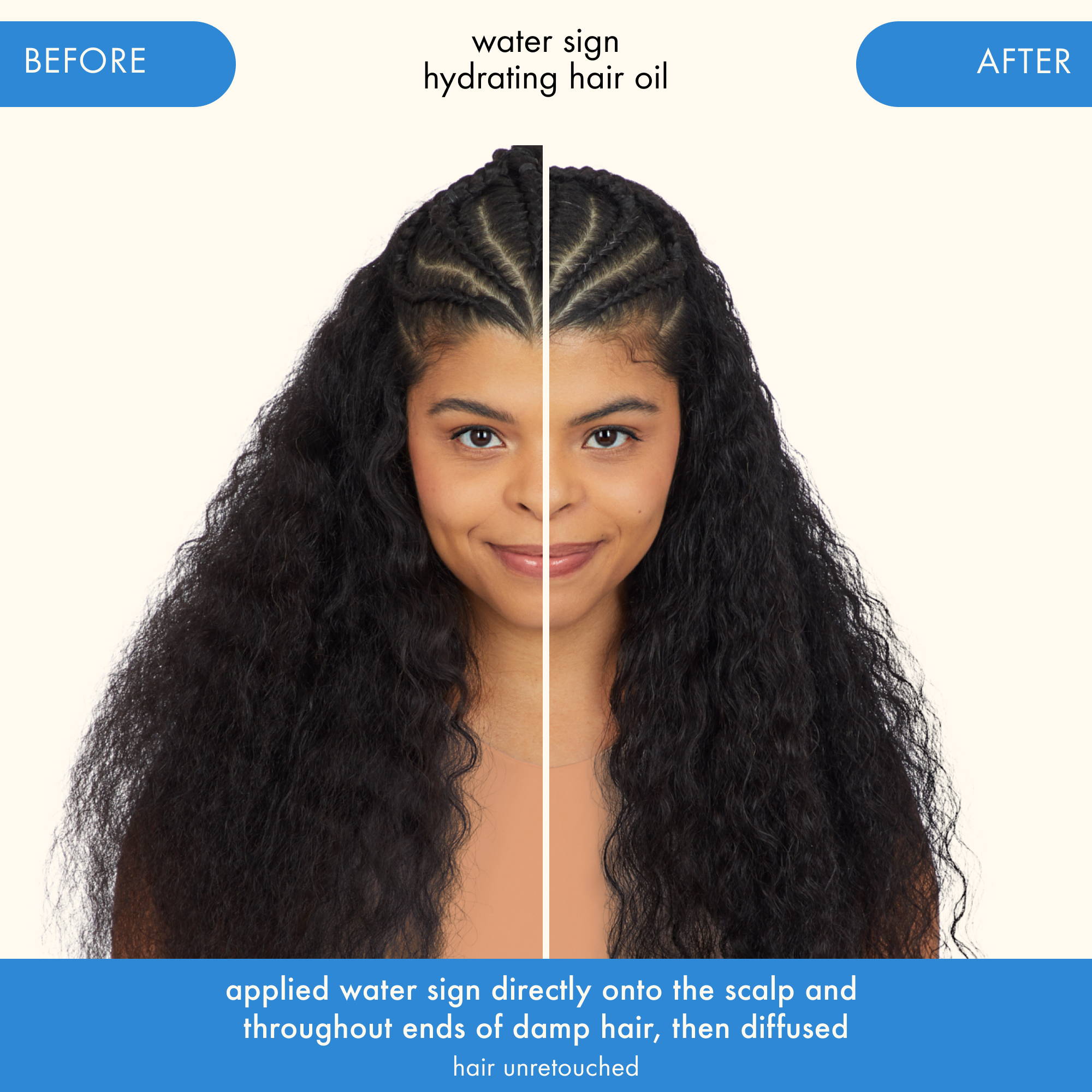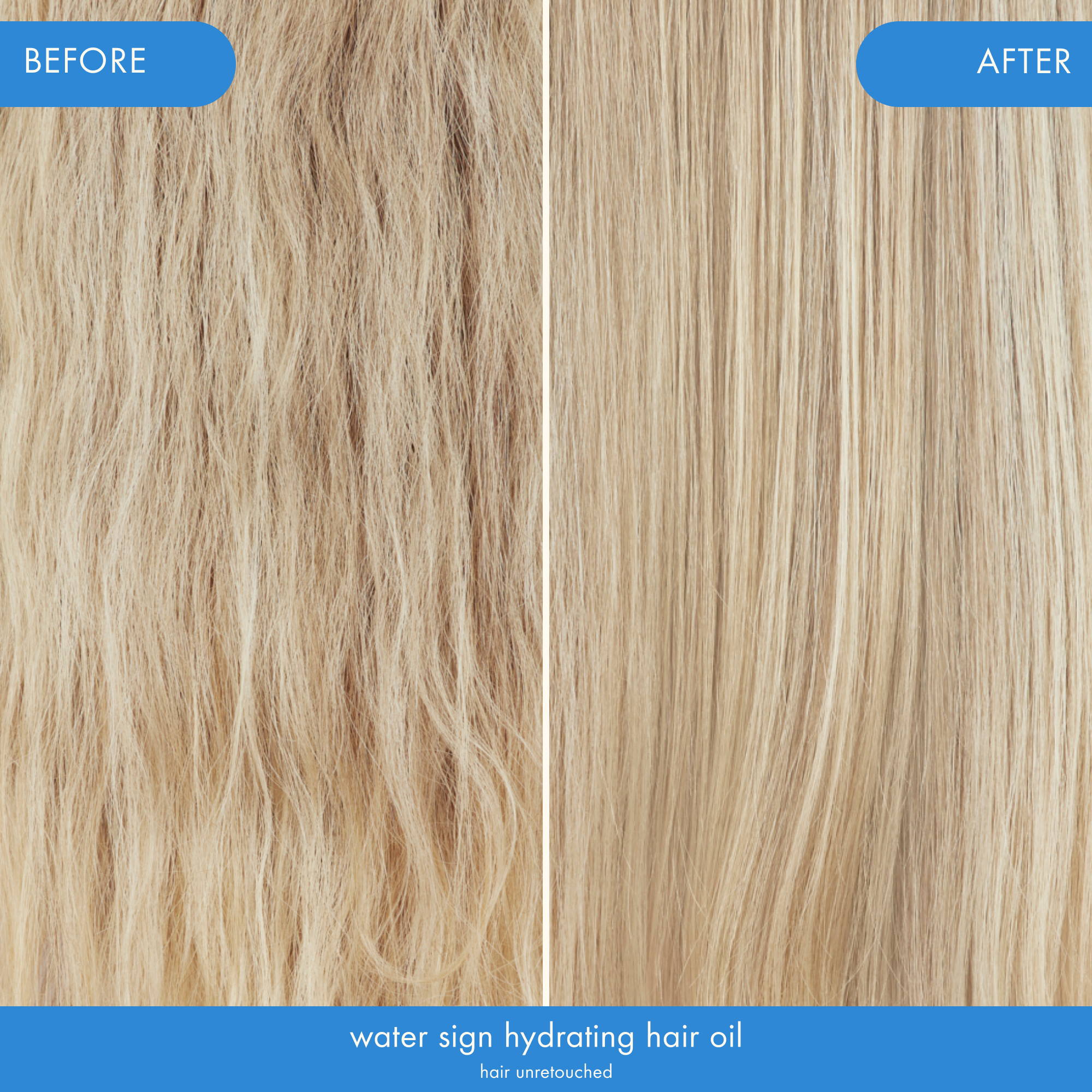 water sign hydrating hair oil: the 411
What it does: Infused with a powerful blend of 8 oils, squalane, and hyaluronic acid, this silicone-free hair oil attracts 2.7x more hydration*, instantly reduces frizz by 69% for 24 hours*, and results in 51% less breakage*. The highly concentrated formula boosts shine, protects against heat up to 450° F, and is ideal for all hair types. 
Who it's for: Water sign is ideal for all hair types experiencing dryness.  
Squalane - Proven to help protect from dehydration and restore lipid barriers, squalane helps to prevent moisture loss while restoring hair's suppleness. 

 

Hyaluronic Acid - Typically a naturally found substance in skin, hyaluronic acid helps plump up dry hair by attracting in moisture from the air around you. 

 

Polyglutamic Acid - Known to promote moisture retention. 

 

Bio-Fermented Coconut Water - Contains various electrolytes, monolaurin, lauric acid, and plant hormones to add natural hydration to hair. 

 

Blue/Green Algae - provides essential fatty acids, amino acids, as well as vitamin a and beta-carotene. 

 

Sea Buckthorn - One of the most potent natural ingredients on the planet, it is one of the few known plant sources of the fatty-acid omega 7. The superfruit is loaded with 15 times more vitamin c than an orange and 3 times more vitamin a than a carrot, making it the ultimate holy grail ingredient for healthier hair and scalp. Even better, our sea buckthorn is sustainably sourced from Tibet! 

 
how to use water sign hydrating hair oil
Since a little goes a long way, start by pumping one to two drops of water sign into palms, then rub hands together coating both front and back to evenly disperse. Run your fingers through damp or dry hair from mid-lengths to ends. If you're going to use heat or have curly and coily hair, we recommend applying water sign onto damp hair. If you're wanting to layer hydration and tame flyaways, we recommend applying water sign to dry hair. 
Apply more as needed, then tame flyaways with any excess oil. Too much too soon? Use perk up plus dry shampoo to absorb any excess.​ 
For damaged and color-treated hair, apply to damp strands before heat styling to protect and reduce breakage.​ 
If you have braids or another protective style, apply directly onto the scalp and throughout damp hair for an abundance of hydration.  
Your amika hairoscope is in! shop water sign hydrating hair oil here.