salons we love: launch of our new series spotlighting amika salons
One of our most beloved communities is our salon and stylist friends. If you didn't already know, amika is Brooklyn-born + salon-raised. We celebrate our heritage by bending rules that don't make sense and pushing beauty boundaries. The brand may have been born in Brooklyn, but it was brought to life in the salon. That means all our haircare and tools are effective, high performing, and kind to your strands. 
In our "salons we love" series, we'll be highlighting some of the amazing amika salons and salon owners that continue to inspire us to make great hair products for all. We also do a deep dive on how they got into the hair industry, what made them open their own salon, and what advice they have for new or existing salon owners.  
To kick off this series, we wanted to give you an idea of just SOME of the amazing salons that we're lucky enough to call our friends! 
Now, let's take our microscope out and focus on the first salon in our series, a special highlight on Hair + Space in Maryland!
introduce yourself + tell us about your salon!
"My name is Regina Holbert and I own the Hair + Space Salon in College Park, Maryland.
how long have you been a friend of amika?
"I've been a friend for a year and a half."
how did you find out about amika?
"At a hair trade show in 2019."
amika means "friend" in Esperanto. what does amika mean to you?
"Amika means haircare for all women and all hair types. This is why I chose Amika for my salon at IBS in New York State in 2019."
what inspired you to get into the hair industry?
"I fell in love with the blowdry bar concept and wanted to bring it to my hometown."
what led you to open your own salon?
"There are very few opportunities for women with all different hair types to attend the same salon in the DC area. The hair industry is so segregated and it is my mission to change that."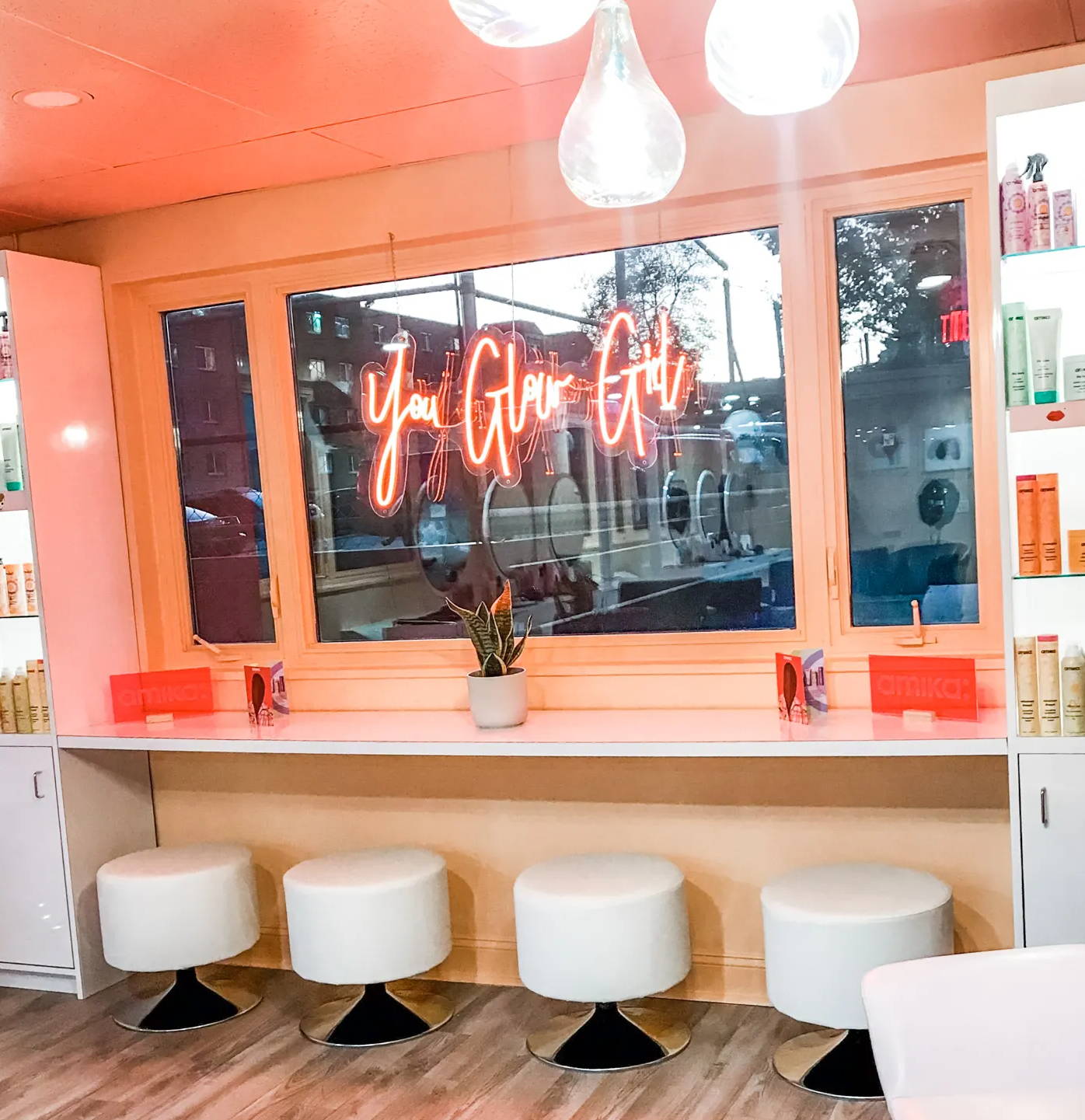 do you have any advice or words of wisdom for other stylists on how they can open their own business?
"It's so important to do your research and don't be discouraged if you don't have a salon owner to help you. I was able to build my business from scratch with the internet, books, and business articles."
what are your main specialties + services, and what are your hopes for the salon in the future?
"We specialize in blowouts, but we also offer updos, braided styles, and natural curl styling! My hopes for the salon are continued growth and an opportunity to move to a storefront."
what are your 3 desert island amika products?
"Soulfood nourishing mask, 3D volume and thickening shampoo, and blockade heat defense serum."
what's your go-to styling trick or pro-tip?
"Our stylists have a mean round brush game! We also love spicing up edges (baby hair) with a edge brush and edge control."
We love having thought provoking dialogue with our amika family + friends. If you want to be part of the conversation, don't be afraid to reach out in any way. For the chance to be featured on The Strand and be part of our ever-growing community of salons, click here.